Vom 31. März bis 07. April 2019 ist es wieder soweit, die 5. Youth Challenge 2019 findet im BESECO statt.
Diese Jahr ist es NEU der letzte Stop auf der YET Tour, der "Youth Euro Trophy".
Hier die Ausschreibungen in deutsch, französisch und englisch
Sieger Noah Willfinger, Marc Jörg 2ter und Marcel Kraft 3ter, BRAVO auch an Marc für 299
und Marcel zu seinem 300ter.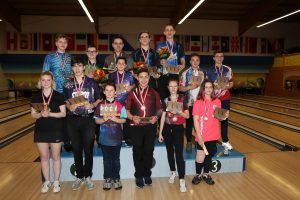 Official Oil Pattern is Broadway 37″ 40ul
The program
Online registration here……
Public transportation from IBIS to Bowling with Bus #7 ! ! ! !
Please stay in the Bus till he does the turnaround at the center.

Recommended Hotels:
Hotel: ibis Winterthur City Hotel, Brühlbergstrasse 7, CH-8400 Winterthur
Reservation:
https://www.accorhotels.com/gb/hotel-3561-ibis-winterthur-city/index.shtml#origin=accorhotels
Hotel: ibis budget Winterthur, Brühlbergstrasse 7A, CH-8400 Winterthur
Reservation:
https://www.accorhotels.com/gb/hotel-6783-ibis-budget-winterthur/index.shtml#origin=ibis